Jamie Oliver, Naked Chef…Risky or Risqué?
Jamie Oliver MBE, is known as The Naked Chef…
…not because he cooks naked, that could be a bit risky or risqué!!
Jamie strips food down to basics, showing the general population that anyone can be a good chef in their own home.
He has had unstoppable success since he was discovered cooking in his parents restaurant, The Cricketers, in Clavering, Essex when he was just 16 years old.
His television shows are aired in over 100 countries and his books translated into more than 30 languages and sold worldwide.
Link to his official website: Jamie Oliver.
Some of his television programmes (just a few mentioned as they are all successful) are:
The Naked Chef Series…The original Jamie Oliver success that grabbed the attention of the British public
Jamie's Kitchen…where he took 15 disadvantaged youths off the street and taught them to cook, (most now have jobs in Jamie's restaurants)
Jamie's School dinners…aimed at serving healthy food to school children
Jamie's Ministry of Food…aimed at persuading the rest of  the British public to eat healthily!
Jamie Does…where Jamie travels to other countries putting his twist on local dishes
Jamie's great Italian Escape…he took a break and travelled around Italy, cooking some of his favourite meals
Jamie's 30 Minute Meals…demonstrating how anyone can prepare not only one dish but a complete meal in 30 minutes
Jamie's Food Revolution…doing the same for America as he did for Britain
Jamie's Fowl Dinners…as it suggests, all about  the awful conditions some creatures live so we can eat, in an attempt to change to free-range farming
Eat to Save Your Life…shows how bad eating habits can kill you and how to remedy how you eat
Jamie's Fish Suppers…how to use all freshwater and sea-food, from the lowly periwinkle to the lobster
30 Minute Meals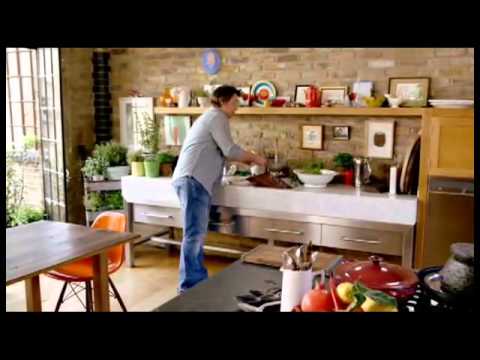 Trailer for Jamie Does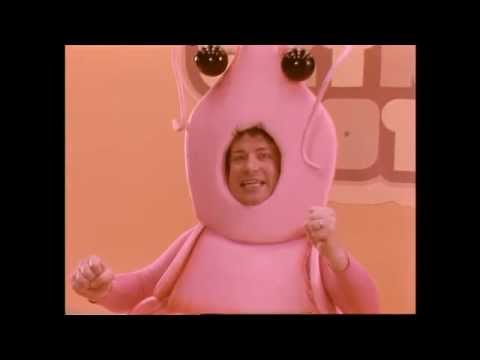 Jamie's programmes, supported by best selling books, have resulted in millions of people finding themselves able to prepare good healthy meals…thanks to this bouncy cheerful character.
Jamie Oliver MBE, was awarded this prestigious award in 2003 for his contribution to the hospitality industry, a very well deserved award for all the hard work he has done for the communities of so many places.
Jamie Oliver Dinnerware
Jamie has  launched ranges of quality tableware and serveware with Churchill China:
Fluted Blue…a delicate blue dinnerware range that puts you in mind of your grannies' kitchen, with fluted edges
White on White…plain but elegant, these strong dishes from Jamie Oliver are stylish for use at any time
JO Keeping it Simple Blue Bands…as it says, simple lines at a very affordable price for any pocket, basic set ideal for young couples or students
Easy Entertaining…a range of dishes for party snacks and shared dishes in plain white to match any setting
Jamie Oliver coasters…cheeky slogans from a cheeky guy!
Jamie Oliver mugs …Grow Your Own…A  letter a day, with vegetables in bright colours Bottom Line…Mugs with slogans…and a saucy reply on the base!
Cheeky Mugs…any phrase you can think of  from best mum to bossy boots
And for the kids, a 3 piece breakfast set in a tin…
Cheeky Monkey…three piece breakfast set in blue for boys.
Little Princess…three piece breakfast set in pink for girls.
Keeping it Simple! You can buy it on Amazon:
Jamie Oliver Dinnerware is diverse and fits on any table! Have fun with it.
The new Jamie Oliver Professional Series cookware range
Jamie Olivers first set of saucepans were Tefal and he still has them…somewhere.
Therefore it is not surprising that he teamed up with Tefal and launched a range of cookware with the Jamie Oliver name.
In Jamie Oliver's own words:
"With an aluminium core, these pans are lightweight and give you excellent heat distribution. The hard anodised surface add maxiumum strength, durability and resistance to wear and tear meaning they're fantastic for everyday use.
The choice in the range of cookware is vast, anything you might need to prepare the most delicious meals as specified in one of the many cook books Jamie has published.
This would be a good  starter set of saucepans to add to over time until a full range of Jamie Oliver cookware graces your kitchen.
What more could any chef or cook want but to cook and eat from the excellent range of Jamie Oliver's own ranges of dinnerware, serveware and cookware…
Other popular Jamie Oliver items sold on Amazon:
Related pages: